Caring for patients locally, helping humanity globally. This aptly describes both Ryan Osborne, MD, FACS, and Shannon Cheffet, DO—the 2022 recipients of CAP's CAPtivating Causes Community Hero and Community Leadership Awards.
For the fourth consecutive year, CAP is proud to pay tribute to member physicians who have made extraordinary contributions to their community and beyond. This year, we honor Dr. Osborne and Dr. Cheffet who both personify the spirit of giving by providing critically needed medical care and services to the men, women, and children in some of the world's most underserved countries.
On-Demand Webinar: Key Strategies for Ensuring a Profitable Independent Practice
During this one-hour program, practice management expert Debra Phairas discusses how various business models and operational enhancements can increase revenue to help your practice remain successful in today's competitive marketplace.
COMMUNITY HERO AWARDEE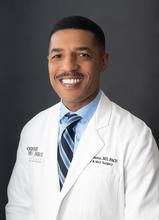 Ryan F. Osborne, MD, FACS Otolaryngologist
Founder and President of Osborne Head & Neck Foundation
Los Angeles
CAP Member Since 2003
Building Connections Between People and Their Communities
The Osborne Head & Neck Foundation is a community service nonprofit that embodies the values of its founder Dr. Ryan Osborne: kindness, generosity,
and service to improve the health of communities through medicine, education, and business development.
With the support from its donors and network of volunteers, the Foundation focuses on improving access to ear, nose, and throat (ENT) health services; head and neck surgical care; mentoring youth leaders; advancing child welfare and development; and growing socially and community conscious businesses.
Each year, the Foundation organizes a humanitarian aid project in a community located in a developing part of the world. Since 2016, the Foundation has opened ENT clinics in Ethiopia, India, Belize, and Peru, and has supported local efforts to improve the quality of life for some of the poorest communities in the world. In these areas, the Foundation helps to provide lifesaving surgical care for families without access to ENT specialists, train local physicians, supply hospitals with needed medical equipment, and partner with orphanages to improve the lives of children most vulnerable in these communities.
CAP is pleased to gift $5,000 to the Osborne Head & Neck Foundation so that Dr. Osborne and the organization may continue their life-changing work.
For information or to support the Foundation, visit https://ohnifoundation.org.
COMMUNITY LEADERSHIP AWARDEE
Shannon K. Cheffet, DO
Internal Medicine and Pediatrics
San Diego
CAP Member Since 2013
Bringing Guidance and Healing to the Remote Villages of Zambia
Last August, traveling with only a small carry-on for personal belongings and a larger case for medical supplies, Dr. Shannon Cheffet headed to Zambia in Southern Africa on a philanthropic journey, which auspiciously coincided with the 20th anniversary of her graduation from medical school.
Dr. Cheffet took part in a volunteer program sponsored by International Medical Relief (IMR), a nonprofit organization that provides healthcare to underserved and vulnerable people around the world.
Over a five day period, Dr. Cheffet joined an international group of physicians, physician assistants, nurse practitioners, registered nurses, dentists, and others to serve more than 1,200 people across several remote villages in Zambia. In addition to providing more than 300 pairs of reading glasses, they administered treatment for various infections, allergies, and dry eye. They also counseled patients on proper stretching exercises to relieve musculoskeletal pain. 
Dr. Cheffet believes that to deliver the best care, it takes providers who are willing to step outside of the comforts of technology and rely on their years of training and experience to help those seeking guidance and healing. "With a focused vision and team of dedicated volunteers, international medical service trips can fulfill a great need for quality care to so many people," she says.
CAP is proud to donate $1,000 to IMR in honor of Dr. Cheffet's dedication and commitment to this extraordinary cause.
To support IMR or for more information about volunteer opportunities, visit https://internationalmedicalrelief.org/.
Congratulations, Dr. Osborne and Dr. Cheffet!