Image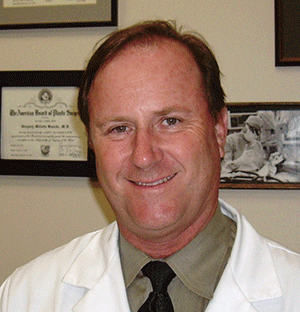 Dr. Gregory Buncke's passion for medicine started in his family's garage.
His father, Harry, now considered the "Father of Microsurgery," had set up a lab there. Inside, using instruments and sutures he invented, Harry Buncke was doing the impossible: connecting blood vessels less than one millimeter in diameter. By 1964, he had successfully replanted a rabbit ear. Later, the first toe-to-thumb transplant for a rhesus monkey. Microsurgery was born.
On-Demand Webinar: Key Strategies for Ensuring a Profitable Independent Practice
During this one-hour program, practice management expert Debra Phairas discusses how various business models and operational enhancements can increase revenue to help your practice remain successful in today's competitive marketplace.
"In the mid-1970s, dad recruited me to join him in his lab as an operating room photographer. There hadn't been many microsurgeries done, and he needed someone to take pictures as a teaching tool," Dr. Buncke recalls. "The teaching, the interesting people, his fascinating cases. I decided I really wanted to do this work with him."
In such exacting work, there are no shortcuts. It took a full 12 years to prepare for the job. "I had to finish college, then medical school, general training in surgery, and then reconstructive plastic surgery. Following all of that, I did my Hand and Microsurgical fellowship."
In 1987, he went to work at the Buncke Clinic. He has been there ever since. "We take care of people who have suffered significant injuries to their extremities. Our patients have been crushed under farm equipment, or caught on augers that rip fingers off. It's almost entirely microsurgery. We treat trauma, reconstruct after serious cancers have been removed, and help people who have suffered congenital defects," he explains. Some injuries are surprising. For example, the second most common injury among people under age 30 is ring avulsion, where young people wearing rings get them caught on something. "When I talk to high school kids, I tell them 'if you don't have to wear a ring, don't'. You'd be surprised how easy it is to lose a finger."
Dr. Buncke's relationship with the Cooperative of American Physicians started nearly 16 years ago. "Our practice is unusual. Each of us are individual physicians, but we also have fellows who need malpractice coverage. CAP has been really flexible and forward-thinking in how they work with us. They're great."
Today, there are four people in the practice. But the impact of the Buncke Clinic is global. "We've trained almost 400 people in our private fellowship, plus plastic surgery students at the University of California, San Francisco, and Stanford University. We're all on the clinical teaching faculty at UCSF and employees there, and I am an alumni of the Stanford plastic surgery residency."
Dr. Buncke's career requires tremendous dedication. "I got in today before 7:00 a.m. and I may not get home at all until tomorrow. But I don't mind doing the work, performing the operations. It feels like a privilege."
With that kind of workload, you might wonder where he would find the time to meet a wife. The answer? In the Andes, specifically in the tiny town of Loja, Ecuador. "Interplast organizes trips for surgeons and nurses to do cleft lip surgery in third-world countries. I really wanted to help." It was a lucky break for him that he did. "While I was there, I met this amazing pediatric nurse named Janet. A year later, we got married." Together, they have raised two children: Sara, 26, a pediatric oncology nurse, and Neal, 23, who works in sales and marketing.
Dr. Buncke is also a bass player and songwriter for his band, Switchblade Nixon, which opened for the Doobie Brothers about 10 years ago. The band's latest CD got its title from a phone call. "I called our percussionist, Mukund, and his mom, who was visiting from India, picked up the phone. When she asked who was calling, I said 'Greg Buncke.' She promptly shouted to her son in the other room, 'There's a a Great Monkey on the phone.' We all had such a good laugh about it that we couldn't resist naming the CD 'Great Monkey.'"
DR.GREGORY BUNCKE AT-A-GLANCE
Medical Specialty: Microsurgery
Practice Location: San Francisco
Years in Practice: 29
CAP Member Since: 2009