Image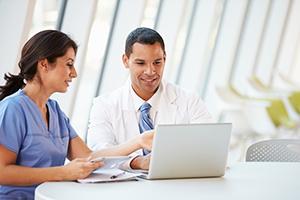 PatientPop is a low-cost, all-in-one tool that builds and optimizes your website, expands your digital presence, automates positive feedback, and enables patients to book appointments quickly online. This easy-to-use platform accelerates new patient growth and can help improve the overall health of your practice.
Attract new patients. PatientPop can help bring in new patients by making it easy for them to find you and seamlessly book appointments online.
On-Demand Webinar: Key Strategies for Ensuring a Profitable Independent Practice
During this one-hour program, practice management expert Debra Phairas discusses how various business models and operational enhancements can increase revenue to help your practice remain successful in today's competitive marketplace.
Enhance your online reputation. Automated patient follow-up encourages patient reviews that can generate positive word-of-mouth referrals and enhance your professional reputation.
Measure performance. Easily track all of your marketing activities and understand what is driving new patients and appointments.
Drive repeat visits. Engage your existing patients by automating friendly reminders of upcoming appointments and routine checkups.
Promote your practice. Take advantage of local advertising campaigns to stand out from the competition and accelerate patient acquisition.
PatientPop provides the following advantages to your practice: 
Smart technology to boost website traffic, conversions, and new appointments 
Enhanced web profiles across healthcare, local, and social media sites
Online appointment scheduling. PatientPop automatically collects new patient information and shares it with your practice
Built-in appointment reminders to reduce no shows and ensure that patients arrive on time
Diagnose the effectiveness of your online presence with your free assessment. For more information, contact Jess Stricklin at 818-929-8361 or Jess@patientpop.com. 
Read how PatientPop has helped these CAP members:
CAPAdvantage is a program of CAP that offers members a suite of no-cost or competitively priced practice management benefits extending beyond our superior medical malpractice and risk management protection. The Cooperative of American Physicians, Inc. and subsidiaries contract to receive compensation from certain product vendors as commissions or marketing fees. CAP uses these funds to control costs and provide additional services to its members.