As the world continued to wrestle with the COVID-19 pandemic, CAP solicited nominations for its Third Annual CAPtivating Causes Award. This year, we sought to recognize members who contributed their time, energy, and treasure to organizations working to combat the effects of the pandemic.
The coronavirus has significantly expanded the concerns and workload for CAP members treating patients in their medical practices. And yet many continue the charitable work that exemplifies the goodwill that physicians bring to the global community. It's truly a pleasure to present to you the recipients of the 2021 CAPtivating Causes Awards, two CAP members who typify going "above and beyond" the already paramount pressures of running a successful practice.
Enroll in Paperless Billing
CAP members can now sign up for paperless billing and enjoy the ease and convenience of managing their account online. Log in to your CAP member account and select "Setup Paperless Billing" to enroll.
COMMUNITY HERO AWARDEE
Song Tan, MD
CAP Member since 1995
Pediatrics
Long Beach, California
Dr. Song Tan is the CEO and founder of the Cambodian Health Professional Association (Americas), or CHPAA. CHPAA has successfully led surgical, medical, and dental missions to Cambodia for the past 10 years. During the COVID pandemic, CHPAA led the way in supporting local Cambodian communities in Long Beach, California, and elsewhere, giving away masks, hand sanitizers, and gloves, as well as promoting safe health measures via radio and TV messages in the Cambodian language. CHPAA volunteers continue to promote medical education by providing virtual Zoom lectures to Cambodian medical students. Dr. Tan and his pediatrics practice in Long Beach have been a landmark for young, poor families for more than 30 years. His service and sacrifice are outstanding.
We are pleased to present a $5,000 donation to CHPAA so that Dr. Tan and the organization may continue their life-changing work.
Information on CHPAA can be found at www.chpaa.org.
COMMUNITY LEADERSHIP AWARDEE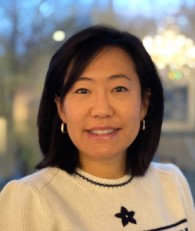 Elisa Yoo, MD
CAP Member since 2009
Dermatology
Los Alamitos, California
Dr. Elisa Yoo is a dermatologist in Los Alamitos.  Since 2014, she has been a staunch supporter of the Boys & Girls Club of Greater Anaheim–Cypress. She was instrumental in helping the club get a $10,000 grant from the Academy of Dermatology to acquire a sunshade – which proved invaluable last year during the pandemic. Her efforts allowed the club to stay open for children of first responders and essential workers by providing extra space outdoors to serve the children. Dr. Yoo was also the club's technology sponsor, donating money to ensure the children had access to computers while at the facility.  Many of the children come from low-income families who could not otherwise afford computers or wi-fi to connect to school programs.  Dr. Yoo was a financial supporter
of the weekly food distributions in Anaheim and Cypress, and she donated PPE and personal hygiene supplies
as well.
We are pleased to present a $1,000 donation to the Boys & Girls Club of Greater Anaheim in honor of Dr. Yoo.
Information on Boys & Girls Clubs can be found at www.bgca.org.
Congratulations, Dr. Tan and Dr. Yoo!